My Bio | Browse the Gallery | To Jukebox | Home
---
Click on a recipe below:

Gumbo Recipe
Brociolone Recipe
Fried Eggplant Recipe
Creole Style Pralines
Perfect Prime Rib

---
Since this is the gumbo page, you might as well know how to make the real thing: This is the gumbo sauce: The ingredients are:
5 tablespoons vegetable oil
1 rounded tablespoon flour
2 pounds onions, finely chopped
3 pieces celery, finely chopped
1 medium bell pepper, finely chopped
3 pods garlic, finely chopped
A dash or two of Worcestershire sauce, Tabasco, thyme, McCormick "Season All"
2 bay leaves and your favorite herbs
Salt and Pepper to taste
First you make a roux: To the fat, add flour and brown, stirring constantly with a whisk to make a dark brown roux. Add the onions, fry slowly until well browned and carmelized, add the rest of the ingredients and cook slowly until pulpy, then add water or stock to the mixture. The final ingredients for seafood gumbo are:
Gumbo Sauce
2 1/2 pounds okra
3 pounds peeled shrimp
6 Gumbo crabs or 1 pound crab meat
Parsley and Onion tops
After cutting into small pieces, cook the okra slowly in a small pot until no longer ropy, stirring often to prevent scorching or browning. Add to the basic sauce and cook for 20 minutes or more, adding water or stock as needed. Add shrimp and gumbo crabs, and 10 minutes later the oysters.Add water to make a soupy consistency. Cook slowly for 20 minutes after the mixture has started boiling Add a handful of chopped onions and parsley about 10 minutes before the gumbo is done. Serve over rice in soup plates.
---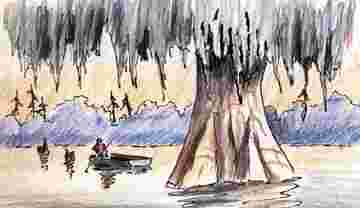 After the Cheniere Caminada Hurricane and Tidal Wave of 1893 killed 2000 people and completely destroyed one of the three barrier islands off the south Louisiana coast, most of the survivors decided to leave the coast for higher ground. The story goes that the leaders of the group stated in the French language "we go west". They settled along Bayou Segnette and thus the town of WESTWEGO was born.
---
Brocioloni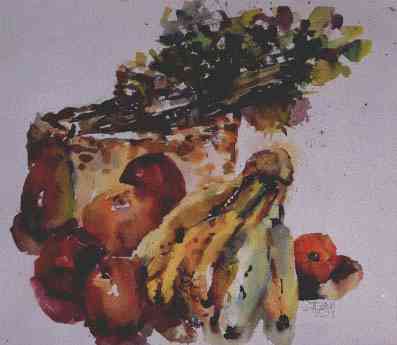 Lucille's Italian stuffed round steak - (Brocioloni)-Purchase one large, thin round steak with as small a bone as you can find ,because the bone has to be removed.Steak should be at least 14" long and no more than 1/4" thick so that it will be easy to roll . Hard boil two eggs and allow them to cool enough for slicing. In a frying pan with a little oil, saute two finely chopped green onions (shallots), and three finely chopped cloves of garlic. When onions and garlic appear clear, stir in two cups of Italian bread crumbs and turn off the fire. Just before removing the pan from the stove, stir in a sprinkling of parmesan cheese.
Pin the hole in the steak shut with toothpicks and lay flat. Spoon on the filling evenly along the length of the steak, leaving a small space along the edge. Slice up the cooled boiled eggs and lay the slices evenly along the top of the filling. Starting at one end, wrap the steak over itself into a roll. Secure the end with toothpicks, and tie the steak firmly in 4 places with string. Remove the toothpicks. Fry off the steak in a little oil until browned all over and remove from pan. It is preferable to do the steak several hours prior to adding it to the sauce, and to allow it to cool in the refrigerator. Place the steak into your favorite Italian sauce, add enough liquid to cover the steak,and cook for two to three hours over a low to medium flame.
A good basic Italian sauce can be make by frying off some onions and garlic in a little oil, then adding one can of tomato paste, two large cans of tomato sauce, and a sprinkling of parmesan cheese.Cook this long enough to combine the ingredients, add salt and pepper to taste, and most important, one teaspoon of sugar. Move this over to a sauce pot, add water, a couple of bay leafs, a couple of pinches of oregano, any other favorite herb you like, add the rolled steak, and cook as above.
When done, remove the steak from the pot, cut off the string and slice. Serve over your favorite pasta with good Italian or French bread, a salad, and some vino. Hey; it's a little work, but if it tastes as good as Lucille's, it's worth it!
The ingredients for the Brocioloni are:
1 large thin round steak
2 hard boiled eggs
2 green onions .including tops (shallots, finely chopped)
3 cloves garlic, finely chopped
2 cups of Italian bread crumbs
Parmesan cheese
---
One side dish that complements Brocioloni is fried , breaded eggplant. The egglant is peeled, cut into round slices about 3/16" thick, dipped into a seasoned egg wash, tossed in a bag containing Italian breadcrumbs, and deep or pan fried. To me, the eggplant tastes like veal cutlets.
In fact, it can be used as a substiture for veal in eggplant parmesan.
However, sometimes the eggplant is past it's prime and is seedy and bitter. If you suspect the eggplant may be bitter, use this old trick: Soak the slices of eggplant in 7-Up for an hour or so. Voila, the bitterness is gone.
---
I hope that you have checked out our Tribute to Ed page and viewed his beautiful paintings. If anyone viewing this site has any paintings of Ed's, please contact me via e-mail at albleb@yahoo.com and we can arrange to have a photo of the painting sent to us to scan and add to the page.
---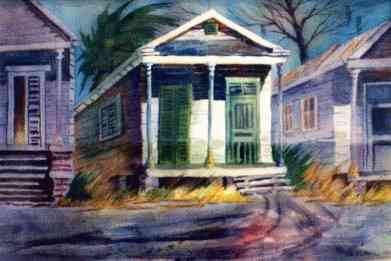 When I first met my wife Lucille, (whose Brocoloni recipe is featured above), her parents lived in a "shotgun" style house on First Street in New Orleans. This distinctive architecture was common in New Orleans and the west bank, and is still around today with many of these homes being renovated. It is called a "Shotgun" because, starting at the front or rear door one walks through one room, through a door into another room, etc., through the entire house. This prompted the saying that a shotgun coud be fired through the front door, and pass through the entire house, exiting the back door, without the pellets hitting anything in the house. There was always a front porch or a "stoop" on which neighbors sat and talked, in pre-airconditioning days druring hot summer evenings, until the temperature cooled off enough to go inside to sleep. Unfortunately, that custom is now lost, and we believe that this has harmed social discourse. To see a larger version of this painting, click on the image at the left.
---
Creole Style Pralines
2 cups granulated sugar
1 cup dark or light brown sugar
1 stick (1/4 pound) butter
1 cup milk
2 tablespoons Karo syrup
4 cups pecan halves (If large halves, crush in small pieces.)
Put all ingredients except the pecans in a 3 quart sauce pan and cook for about 20 minutes, after boiling starts, stirring occasionally. Add the pecans and cook the mixture until the liquid forms a soft ball when a little is dropped into cold water (238 degrees on a candy thermometer). Stir well and then drop by spoonfuls on waxed paper. Place a few sheets of newspaper beneath the waxed paper. It is convenient to place a small table near the stove, over which put a few sheets of newspaper, and then put the waxed paper over that.
Try coconut pralines by substituting one bag of dry shredded coconut in place of the pecans. It's goooood!!
---
Perfect Prime Rib
1. Get a prime rib roast at your supermarket.
It's usually labeled bone-in ribeye roast.
2. Mix up equal parts of onion salt, seasoned salt, and garlic powder.
Approx 1/4 cup total.
3. Pat the salt mixture on both ends and the fat side of the roast.
The salt may not stick as well on the fat side. Don't worry about it.
4. Pre-heat oven as high as it will go. Usually 500 degrees but not broil.
5. Stick the roast in a dutch oven preferably on a small rack that will
lift it off the bottom. Bone side down (fat side up). Get a meat
thermometer and stick it in the middle of the roast.
6. Cook the roast in the oven for 5-6 minutes per pound
and then shut the oven off.
DO NOT OPEN OVEN DOOR FOR TWO HOURS UNDER PENALTY OF DEATH.
7. After two hours take it out and check the temp.
If its 140 degrees it's perfect.
If it's cooler, put it back in the oven at 375 degrees until it hits 140 degrees.
8. This procedure will yield a PERFECT MEDIUM RARE PRIME RIB.
Don't ask me how to do medium or well done because cooking
prime rib roast past medium rare is a felony.
9. Get a package of Au Jus mix in the spice section of your supermarket
and make following directions.
10. INVITE ME OVER FOR DINNER.
---
My Bio | Browse the Gallery | To Jukebox | Home
You are listening to: